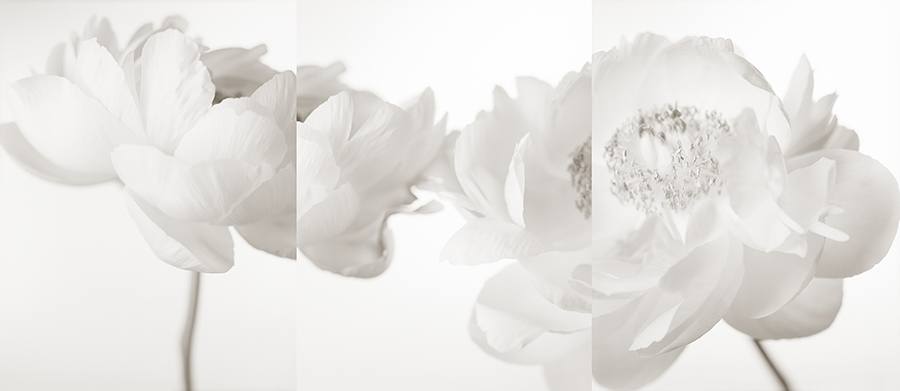 ARTSCAPE JAPAN
Susan Rogers Chikuba
July 1st, 2014

If photographer Yumiko Izu's black-and-white still lifes of flowers were to emit sound, it would be musical. As I took in her Secret Garden solo exhibition now on through July 31 at Tokyo's bauhaus gallery, in my mind her images—full of life, kinetic rhythms, and harmonic contrasts—were playing Vivaldi.

Wondering what music Izu herself would associate with her work, I was pleasantly surprised when she answered by introducing me to another gallerygoer, A pianist/composer known for his meditative pieces filled with "pure drops of sound," Wong is the author of melodies that Izu says she plays in her home studio from morning to night. Earlier, I had overheard the two talking about issues of nuance, contrast, and the almost infinite depths of expression found even within the discrete bounds of black and white. For her part, Izu was speaking of the textured image control of the platinum-print process—her professional passion—while for Wong, these points were all to do with the notes of the keyboard and the chromatic scale. As these many connections gelled I realized that, whether interpreted visually as gradients of color or aurally as frequencies of sound, both photographer and musician were talking about the same thing: tonal range. My initial impression of Izu's photographs now made all the more sense.

Izu, who lives and works in a 150-year-old converted barn in the lush Hudson Valley of upstate New York, has described her floral subjects as "beings partaking in the dance of life." And while her exquisite compositions, shot with an 180-mm lens on a large-format Deardorff view camera, are every bit as lovely as the fluid music she relates them to, it's her mastery of tonal expression that really sets her fine art apart. In the triptych shown above, controlled shifts in focus, lighting, and in the density of each negative combine to give lyric voice to this peony's traipse through time.

Photographed over a seven-year period from 2003, Izu's portraits of chrysanthemums, irises, water lilies, sweet peas, anemones, dahlias, tulips, and other blooms are at once soft, yet sharp; rich, yet sublimely stark. Two series, Noir and Blanc, comprise the 43 works on display at bauhaus, but they are so much more than black and white. Izu shows us a scale where the two opposites collapse and expand into hues from matte velvet ebony and blue-black to the cleanest unsaturated white, with all manner of subtle greys and warm brown gracenotes in between.

If you haven't had the opportunity to see many platinum-palladium prints, also known as platinotypes, you'll be surprised at how much deeper and denser they are than the more common silver-gelatin. Proponents hold that platinotypes provide the greatest tonal range and surface quality of any chemical-based printing method; collectors covet them for their archival permanence as well. Enthusiasts take note—prints from the Blanc series are displayed in Ralph Lauren stores around the world, but the bauhaus exhibition is the first time Secret Garden is being shown in Japan.

Izu makes her own 8×10 contact prints on watercolor paper in an artisanal process so painstaking even the dedicated photography buffs at her gallery talk were hanging on her every word. While the "how" of it all is far beyond my rudimentary understanding of printmaking, her skill in selectively pulling or erasing detail from shadow is clear. In some of the works this choice lends an elegiac note to the image; in others, it makes the blooms seem animated or caught mid-flight. Both impressions reinforce Secret Garden's inherent metaphor about beauty and the fleetingness of life. What's more, Izu accomplishes this with a poignancy that's fresh and free of mawkish sentiment.
It's no surprise that a photographer who prefers to shoot large-format conventional film rather than digital is attracted to the hands-on craft of platinotype, where so many critical factors—humidity, ambient temperature, the strength of the emulsion and the speed and weight of her hand on the brush as she coats the sensitized paper—are subject to serendipity. "What I bring to the process is a clear creative vision and careful control of the materials and processing environment," Izu says. "Beyond that, there are elements of un-control that sometimes yield un-intentioned results. I accept these surprises as gifts rather than goofs."

Over the years Izu spent shooting Secret Garden, the portraits became less representational and more abstract, a shift she considers a natural completion of the cycle. Her current work in progress, Faraway, is a study of animal skulls, also black and white, and offering plenty of crevices and curving contours to elicit the shadows she expresses so well. As the bare white bones carry far more gravitas than the lightsome songs of flowers, Faraway seems the Yang to the Yin of Secret Garden—another movement, as it were, in her compositions recording the dance of life.