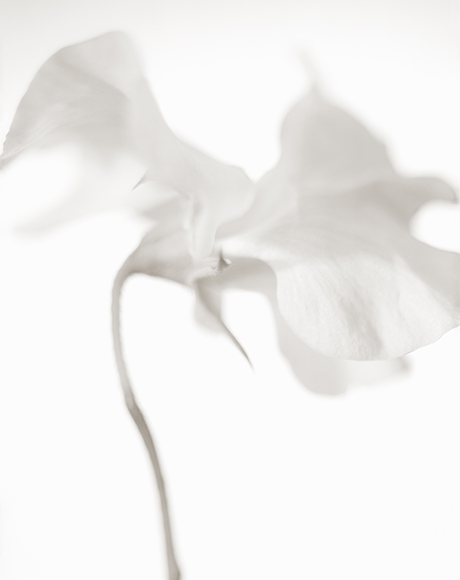 BROAD STREET REVIEW
Robert Zaller
August 19, 2008

Yumiko Izu is a rapidly emerging artist, as a small but exquisite show at Galerie BMG in Woodstock, N.Y., makes clear. Ms. Izu specializes in photographing flowers, a well-worn subject that yields fresh and striking results in her hands. Her photographs are taken in black and white, with a mounted, oversize 8 x 10 camera, and exposures of up to a minute. She uses the older platinum-palladium process, and prints on fine, textured paper, enabling her to achieve extraordinary textural effects.

The present show consists of two suites, the first and earlier in black and white, and the second printed entirely in shades of white. The former, with its stark contrast and its subtle gradations of gray, is the more immediately appealing. Some of the images are boldly sensual; others suggest a mysterious, nocturnal state of being, tinged with decay.

Flowers flourish differently than anything else in nature; they die differently as well. Ms. Izu, in these images, runs a gamut between both extremes, reminding us as well of the human relationship to the floral world, for we make flowers the companion of our most intimate hours, and of our deepest joys and sorrows. They personify us, and we them; and yet they are full of strangeness, and when seen with a poet's eye such as Ms. Izu's, they can genuinely startle us. D. H. Lawrence understood flowers this way, and I think he would have enjoyed this exhibition.

It is Ms. Izu's white-on-white images, however, that made the finally more distinctive impression for me. Using roses and sweet pea, she achieves an extraordinary sense of scalloping; her petals, seemingly urged by an invisible wind, suggest sculpture in motion. One thinks of the flutings of ancient Greek statuary, but whereas the Greeks sought to mimic nature, Ms. Izu derives the most delicate of artifacts from actual leaves.

It's yet another way she negotiates the subtle bridge between the flower world and our own, and suggests the myriad subtle ways in which they reflect and comment on each other.